Pharmacist Participation in the Alberta Rapid Screening Program Update
The Alberta Rapid Screening Program
Alberta Health is making rapid COVID-19 tests available to employers and service providers to reduce the spread of COVID-19 in high-risk populations, high-risk settings and workplaces, essential services, and critical industries. Rapid COVID-19 tests can identify pre-symptomatic and asymptomatic cases—people who don't know they're infected—so they can be isolated, breaking the chain of viral transmission earlier.
Organizations that wish to establish a screening program require a health care provider to provide oversight for the program. This individual would be responsible for ensuring the screening plan is appropriate, that the individuals performing the tests are trained appropriately, addressing issues and questions as they arise, and reporting to Alberta Health. They do not need to be onsite at all times but do need to be available and accountable for the screening program.
A website with additional information will become available in late March.
How Pharmacies Can Support
Many organizations that wish to establish a screening program will need to contract a health care provider to provide oversight and they may also need to contract out the actual test administration to a trained individual (not necessarily a health care provider). To support these organizations, Alberta Health will be creating an online directory of companies interested in providing these services.
In terms of process, the organizations who wish to establish a screening program for their employees will request the rapid tests from Alberta Health and, once the application is approved, a supply of rapid tests will be shipped either to the organization or to the company they are contracting to oversee the screening program.
If you are interested in being included in the online directory complete the following table with your pertinent details, specifically around the rapid testing services you may offer and the service delivery area within Alberta. It is envisioned that some pharmacies may have the ability and capacity to develop and deliver onsite-testing programs for clients, while others may be positioned to propose in store testing as part of these programs. Please provide enough information regarding the services you offer so those seeking a provider will have an idea of suitability that will incite them to make contact. You can submit this form to rapidtesting@gov.ab.ca .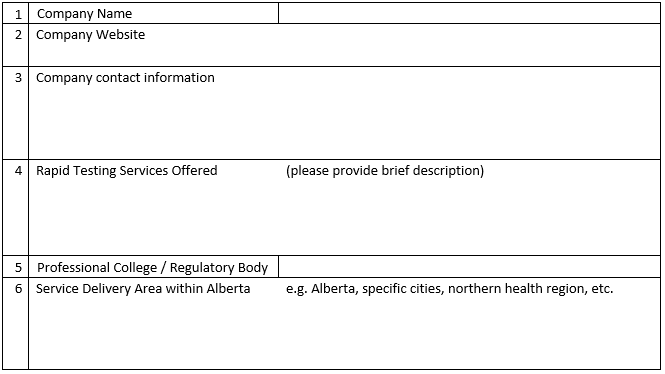 Rapid Tests for Pharmacies as Employers
As employers, you may be interested in creating a rapid screening program for your employees. If so, please either watch for the website launch or reach out to rapidtesting@gov.ab.ca with any questions.