Leaders in Pharmacy Since 2000
Vision
To lead a unified, innovative, inspired and thriving profession.
Mission
RxA promotes the value of pharmacists in supporting and optimizing the health of Albertans by:
Advocating and advancing the profession
Engaging stakeholders about the value of pharmacist practitioners
Advocating for appropriate compensation and recognition of pharmacists' contribution to healthcare
Inspiring excellence and innovation in the profession and pharmacist practice
Supporting members by providing quality services and professional development
---
RxA is a not-for-profit, membership-based association. Our activities are governed by an elected Board of Directors who dictate responsibilities related to organization priorities and initiatives.
For over two decades, the Alberta Pharmacists' Association (RxA) has been a champion for pharmacists in Alberta. It is our vision to be the voice of a unified, innovative and inspired profession. We play an integral role in expanding pharmacists' practice, and we continue to advocate on your behalf for excellence in patient care.
With the backing of a strong membership, RxA will continue to ensure that the profession of pharmacy remains valued and viable for another 20 years.
We Advocate
RxA is the recognized voice for pharmacist advocacy in Alberta. We play an integral role in expanding pharmacists' practice as we work towards a better future for the profession and for the patients that benefit from pharmacist care.
We Educate
RxA offers member-exclusive CCCEP accredited courses, programs and conferences for pharmacists. Whether you are a new graduate or a seasoned professional, our online and in-person courses offer comprehensive professional development opportunities to give pharmacists the tools and knowledge they need to succeed.
We Support
RxA is dedicated to empowering pharmacists and providing them with the resources they need to demonstrate their value within the healthcare system, to patients and stakeholders within their circle of influence.
---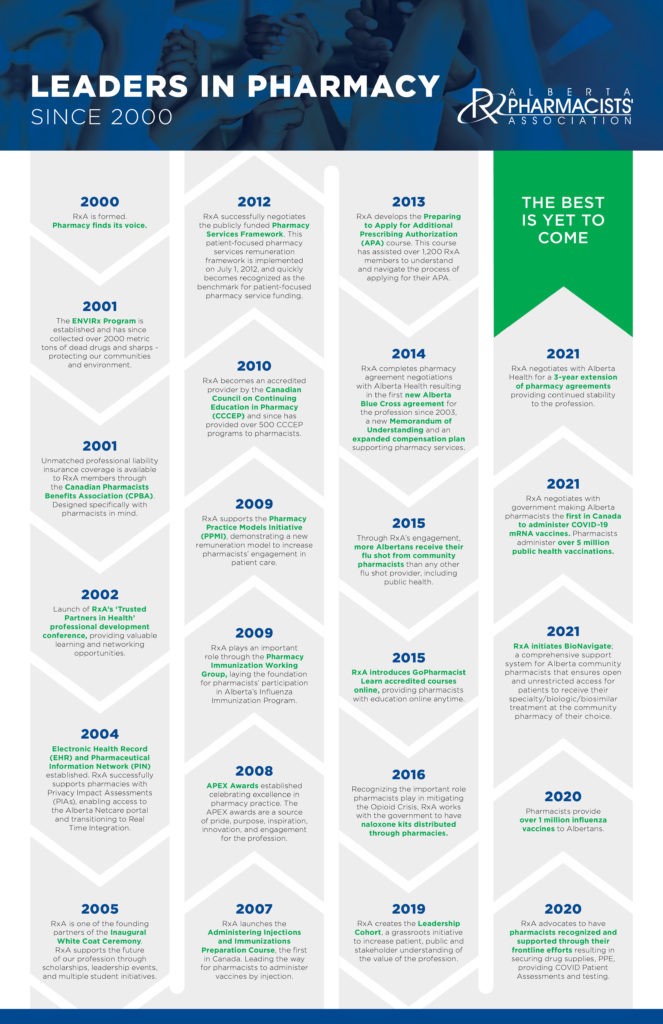 ---
We acknowledge that what we call Alberta is the traditional and ancestral territory of many peoples, presently subject to Treaties 6, 7, and 8. Namely: the Blackfoot Confederacy – Kainai, Piikani, and Siksika – the Cree, Dene, Saulteaux, Nakota Sioux, Stoney Nakoda, and the Tsuu T'ina Nation and the Métis People of Alberta. This includes the Métis Settlements and the Six Regions of the Métis Nation of Alberta within the historical Northwest Metis Homeland. We acknowledge the many First Nations, Métis and Inuit who have lived in and cared for these lands for generations. We are grateful for the traditional Knowledge Keepers and Elders who are still with us today and those who have gone before us. We make this acknowledgement as an act of reconciliation and gratitude to those whose territory we reside on.