Board of Directors
The RxA Board of Directors consists of hard-working, knowledgeable and experienced volunteers who will provide RxA with its mandate for the fiscal year.
---
2022/2023 Board of Directors
Led by President Mark Percy, the Board of Directors is comprised of ten representatives, including nine Alberta pharmacists and one student representative. The board includes one ex officio board member (CPhA).

Members that wish to bring forward comments, issues or questions for discussion at future RxA board meetings, please email board@rxa.ca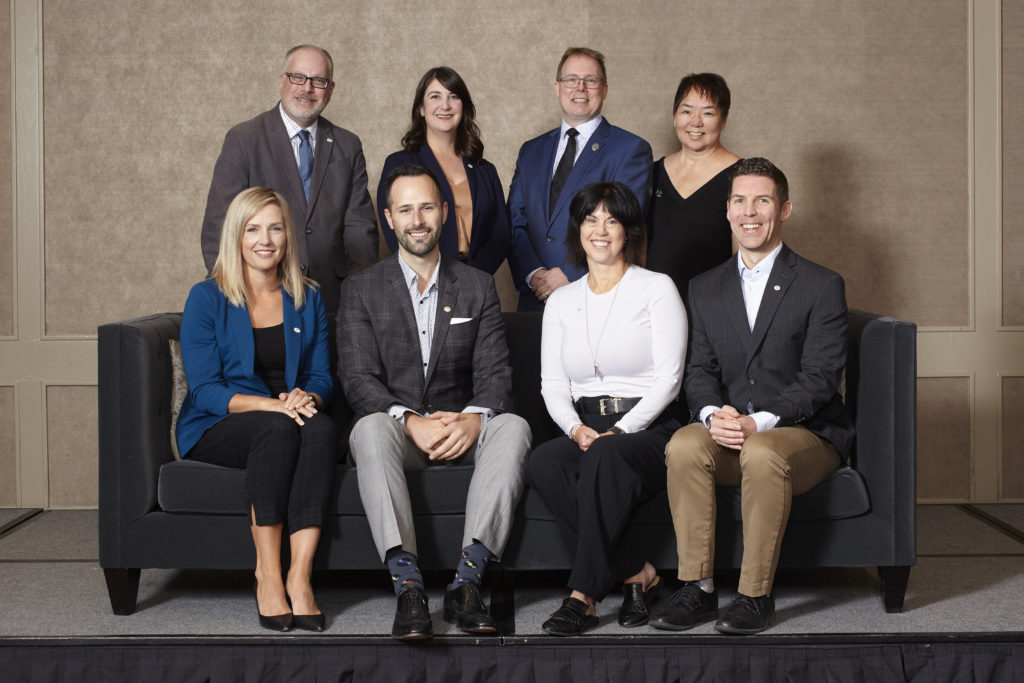 Top Row (left to right)
Bruce Winston, Board Member
Cassandra Woit, Board Member
Neil Cameron, Ex Officio (CPhA)
Aileen Jang, Board Member
Missing:
Darren Erickson, Board Member
Bojana Nikic, Student Board Member
Bottom Row (left to right)
Brittany Zelmer, Secretary-Treasurer
Mark Percy, President
Kelly LaForge, Past President
Randy Howden, Secretary-Treasurer


---
Mark Percy, President

Mark graduated from the University of Alberta in 2009 and went on to complete his hospital residency in 2010 with Alberta Health Services (Calgary). While working at the Foothills Medical Centre his practice focus was internal medicine, quality improvement research, and multidisciplinary education. In 2014 Mark became the managing partner of an independent pharmacy in Calgary with outreach clinical work involving inner-city health, addictions, and complex chronic diseases (Endocrine, Respirology, and Rheumatology). It is his passion to find novel ways to integrate pharmacists into underserved populations to achieve shared outcomes



---
Kelly LaForge, Past President

Kelly LaForge is part of the Alberta Pharmacists' Association Board of Directors and is Past President. She is a graduate of the University of Alberta and has been practicing since 1988. She has worked in a variety of community settings, including both corporate and independent pharmacy practices in Alberta. She is the former Vice President of Pharmacy Operations for Shoppers Drug Mart where she worked collaboratively with professional practice to provide programs that enhance patient care. She also supported Associate Owners with change management and the deployment of a new software system. Kelly is currently the Associate Owner of two Shoppers Drug Mart pharmacies.


---
Randy Howden, President-Elect

Randy graduated from the University of Alberta in 2005. He owns and practices at the Calgary Crowfoot and Sunridge Medicine Shoppe pharmacies. As a pharmacist, Randy loves the interaction with patients and the amazing scope of practice that allows pharmacists to do so many different things. His interests and specializations are focused on Diabetes Education, Compounding, Weight Management, Mental Health, Travel Medicine, and Chronic Pain.






---
Brittany Zelmer, Secretary-Treasurer

After graduating from the University of Alberta in 2005, Brittany continued developing her skill set by obtaining her injection certification, APA and Certificate in Travel Health. She worked as a relief pharmacist, staff pharmacist, manager and is now a District Manager for Sobeys, Safeway and FreshCo Pharmacies. Although she is no longer on the frontlines, Brittany continues to advocate for the profession through Sobeys National Pharmacy Advocacy Council and in RxA's leadership cohort. She encourages and supports her teams to provide patient-centered care by using their full scope of practice.



---
Darren Erickson, Board Member

Darren graduated from the University of Alberta in 1982 and has spent most of his career in East Central Alberta. He currently owns a pharmacy in Tofield where he practices with injection and APA authorizations. He is familiar with the changes going on in the pharmacy profession and realizes that we must guide change, adapt our practices to these changes and be prepared for future change. It is likely you have chatted with Darren at one of RxA's Professional Development Conferences held in the Spring and Fall.



---
Aileen Jang, Board Member

Aileen graduated from the University of Alberta in 1983. She is co-owner of 2 independent pharmacies in the Edmonton area since 1985. Aileen has been involved in the mentorship program with the Faculty of Pharmacy, preceptor for first-year students and Pharm D rotations. Previously a TA in dispensing labs as well as a Lab Facilitator. She is authorized to administer injections, APA, and recently completed a Medical Marijuana Certificate Program. Aileen is also involved with the Pharmacy Alumni Association and the organizer for Independent Night for students. Also involved in the Leadership Cohort. What do you wish other people knew about RxA? The history of RxA and the amazing things that have been accomplished! So many pharmacists don't remember what it took to get to this point where Alberta is the envy of all provinces and countries. In my spare time I love to cook and have friends and family over to enjoy the fruits of my labor. In life it's important to love what you do and the people you do it with. Life goes by so quickly, it is important to have a great work / life balance.

---
Bruce Winston, Board Member

Bruce Winston is an entrepreneur and pharmacist, having graduated from the University of Alberta.

Bruce co-founded Apex Pharmacies which he grew to 20 pharmacies under the Sandstone Pharmacies brand. Following the sale of Sandstone to Neighbourly Pharmacy, Bruce has taken on a role with Neighbourly as Head of Alberta Pharmacy Strategy and Professional Affairs. While he no longer directly owns a pharmacy, Bruce retains a deep personal commitment to the practice of pharmacy.

Bruce is committed to working diligently to advocate for the profession and to ensure it remains financially sustainable for a new generation of pharmacists. He hopes that through his activities with the Alberta Pharmacists' Association, and by working with pharmacy students at the UofA, he will assist pharmacists in launching their careers and in feeling fulfilled with their professional practices throughout their careers.

---
Cassandra Woit, Board Member

Cassandra graduated from the University of Alberta in 2016 and went on to complete her MSc in Pharmacy Practice in 2019. Her research focused on prescribing competence and confidence in pharmacy and medicine. She has practiced in supportive living facilities and independent pharmacies, where she collaborated with physicians, nursing staff and patients to quickly expand her practice and knowledge to provide comprehensive pharmacy services. In 2021, a new opportunity presented itself and she joined the pharmacy team at North Central CO-OP Pharmacy in Chappelle. She has been with this team for the last year and has been able to focus on the community's needs while advocating for the profession.



---
Neil Cameron, Ex Officio Board Member (CPhA)

Neil is a second-generation pharmacist and pharmacy owner. He graduated from the University of Saskatchewan in 1991 and has practiced in Alberta since graduation. He is a Past President of the Alberta Pharmacists' Association and Value Drug Mart Associates. Neil has volunteered his time to serve on a Budget Challenge Panel for Alberta Treasury Board and Finance, plus volunteers for other provincial and local community Not for Profit Organizations. Neil completed the ICD-Rotman Directors Education Program to obtain his ICD.D designation in 2016.



---
Bojana Nikic, Student Board Member

Bojana (she/her) is a third year Doctor of Pharmacy student at the University of Alberta. She graduated from the University of Alberta with a BSc-Double Major in Biological Sciences & Psychology in 2019, and enrolled in Pharmacy thereafter. Currently, she sits as the President of the Alberta Pharmacy Students' Association (APSA), and is the founder and Past-President of the LGBTQ+ Pharmacy Student Club (LGBTQ+PhSC).
Bojana has been involved in advocating for implementing 2SLGBTQ+ health topics into the PharmD curricula, and more safety and support measures for marginalized students in the Faculty of Pharmacy. She currently sits on the Faculty Council, the Faculty's EDI Committee, the Curriculum Committee and Admissions Committee.