Board of Directors
The RxA Board of Directors consists of hard-working, knowledgeable and experienced volunteers who will provide RxA with its mandate for the fiscal year.
Log in to view more content on this page for members.
---
2019/2020 Board of Directors
Led by President Darren Erickson, the board of directors is comprised of ten representatives, including nine Alberta pharmacists and one student representative. The board includes one ex officio board member (CPhA).

Members that wish to bring forward comments, issues or questions for discussion at future RxA board meetings, please email board@rxa.ca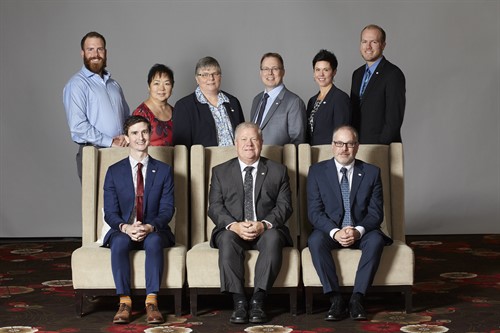 Back row (left to right)
Scott Dyer, Student Board Member
Aileen Jang, Board Member
Rita Lyster, Board Member
Neil Cameron, Ex Officio (CPhA)
Kelly LaForge, Secretary-Treasurer
Connor Lohues, Board Member
Front Row (left to right)
Todd Prochnau, Past President
Darren Erickson, President
Bruce Winston, President-Elect
Missing: Mark Percy, Board Member
Darren Erickson, President
Darren graduated from the University of Alberta in 1982 and has spent most of his career in East Central Alberta. He currently owns a pharmacy in Tofield where he practices with injection and APA authorizations. He is familiar with the changes going on in the pharmacy profession and realizes that we must guide change, adapt our practices to these changes and be prepared for future change. It is likely you have chatted with Darren at one of RxA's Professional Development Conferences held in the Spring and Fall.
Bruce Winston, President Elect
As a pharmacist and pharmacy owner in Alberta for over 30 years, Bruce has a deep personal commitment to the practice of pharmacy. This dedication was recognized when he was the co-recipient for the W.L. Boddy Pharmacy of the Year Award, for creating a multi-disciplinary healthcare delivery team at Sandstone Pharmacies, Simons Valley.
Along with his day-to-day role as president of Sandstone Pharmacies, Bruce sits on the Bow Valley College Pharmacy Technician Advisory Committee. Previously, he was a member of the National Advisory Board for McKesson's IDA/Guardian banner pharmacies and participated in the Dean's Advisory Council for the U of A Faculty of Pharmacy and Pharmaceutical Sciences. Outside of pharmacy, Bruce is a member of the board of the Bertha Gold Jewish Seniors Residence.
Todd Prochnau, Past President
Todd graduated from the University of Alberta in 2010 and was the recipient of CPhA's Dean George A. Burbidge Award. Shortly after, he became the pharmacist and associate owner of Shoppers Drug Mart in Sylvan Lake. Achieving both his authorization to administer drugs by injection and additional prescribing authorization, Todd is continually expanding his scope of practice to best serve his patients. He also has extended his knowledge in tobacco reduction and runs a pharmacist-led smoking cessation clinic out of his pharmacy. In his spare time, Todd serves as a Board of Director for the Sylvan Lake & Area Community Partners Association.
Kelly LaForge, Secretary Treasurer
Kelly is a graduate from the University of Alberta and has been practicing since 1988. She has worked in a variety of retails settings, including both corporate and independent pharmacy in Alberta. She is the former Vice President of Pharmacy Operations for Shoppers Drug Mart where she worked collaboratively with professional practice to provide programs to enhance patient care. She also supported Associate owners with change management and the deployment of a new software system. Kelly is currently the Associate Owner of the Shoppers Drug Mart in Callingwood, and she is proud to serve on the steering committee for the Lois Hole Hospital for Women's Society.
Mark Percy, Board Member
Mark graduated from the University of Alberta in 2009 and went on to complete his hospital residency in 2010 with Alberta Health Services (Calgary). While working at the Foothills Medical Centre his practice focus was internal medicine, quality improvement research, and multidisciplinary education. In 2014 Mark became the managing partner of an independent pharmacy in Calgary with outreach clinical work involving inner city health, addictions, and complex chronic diseases (Endocrine, Respirology, and Rheumatology). It is his passion to find novel ways to integrate pharmacists into underserved populations to achieve shared outcomes.
Rita Lyster, Board Member
Rita graduated in 1980 and has lived through a rapidly changing profession, including roles in retail, hospital and long-term care pharmacy. She is a passionate clinical pharmacist and has bolstered her learning over the years in order to provide the latest and best clinical care to her community. A Board-Certified Geriatric Pharmacist since 2007, Rita has also trained in menopause management, anticoagulation management, compounding for bioidentical hormone replacement therapy, compounding for topical pain management or skin conditions. Rita has also been a study participant for PPMI, RxAction, RxING, RxACT, RxEACH. In 2009 she was awarded the Alberta Bowl of Hygeia and in 2011 the Commitment to Care Rookie of the Year.
Aileen Jang, Board Member
Aileen graduated from the University of Alberta in 1983. She is co-owner of 2 independent pharmacies in the Edmonton area since 1985. Aileen has been involved in the mentorship program with the Faculty of Pharmacy, preceptor for first year students and Pharm D rotations. Previously a TA in dispensing labs as well as a Lab Facilitator. She is authorized to administer injections, APA, and recently completed a Medical Marijuana Certificate Program. Aileen is also involved with the Pharmacy Alumni Association and the organizer for Independent Night for students. Also involved in the Leadership Cohort.
Connor Lohues, Board Member
Upon graduation from the University of Alberta in 2015, Connor had the opportunity to work in both inner-city Edmonton and Sherwood Park with Mint Health + Drugs where he began developing a passion for clinical pharmacy within the community setting. In 2016 Connor and his wife chose to move back home to Lethbridge. Connor took this opportunity to begin working as a clinical consultant in Southern Alberta and continues to work in this role within Lethbridge as well as the nearby communities of Coaldale and Picture Butte. His current practice focusses on management of chronic diseases and addressing gaps in care through use of APA. Recently, Connor's passion for travel also led him to obtain a Certificate in Travel Health TM.
Neil Cameron, Ex Officio Board Member (CPhA)
Neil is a second-generation pharmacist and pharmacy owner. He graduated from the University of Saskatchewan in 1991 and has practiced in Alberta since graduation. He is a Past President of the Alberta Pharmacists' Association and Value Drug Mart Associates. Neil has volunteered his time to serve on a Budget Challenge Panel for Alberta Treasury Board and Finance, plus volunteers for other provincial and local community Not for Profit Organizations. Neil completed the ICD-Rotman Directors Education Program to obtain his ICD.D designation in 2016.
Scott Dyer, Student Board Member
Scott Dyer is a third year Pharmacy Student at the University of Alberta, and currently serves as the President of the Alberta Pharmacy Students Association (APSA). He obtained a BSc. in General Science at Mount Royal University before beginning pharmacy school minoring in Chemistry and Biology.