2023 Future of Pharmacy: John Markowsky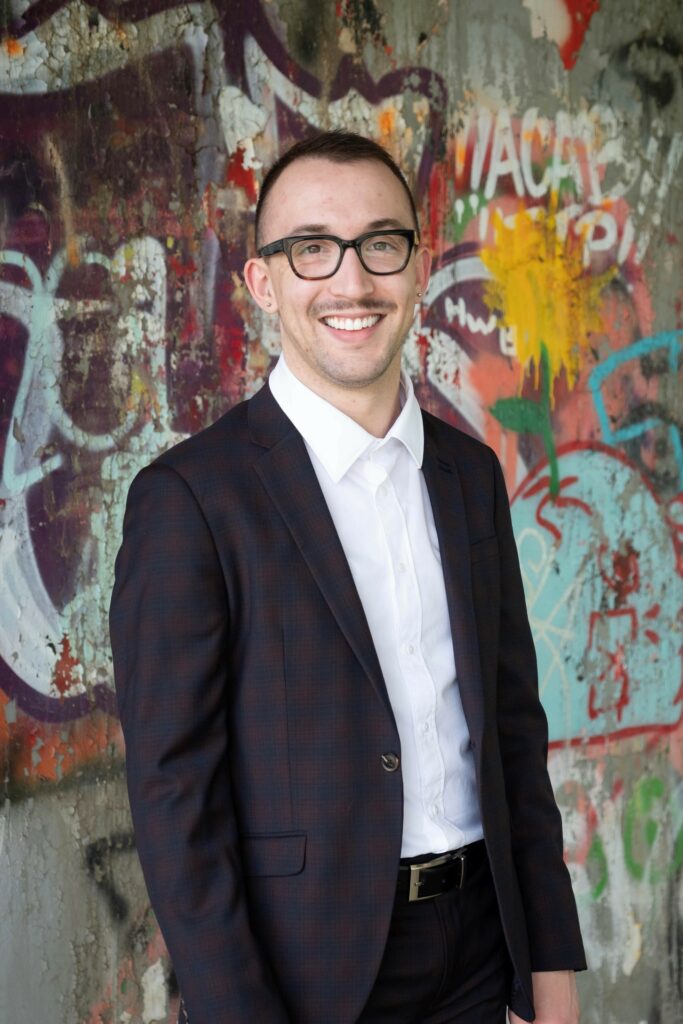 John Markowsky
Pharmacist
Safeway Pharmacy in Camrose
The Future of Pharmacy Award is presented to up to three pharmacists per year who exude a passion for pharmacy and offer extraordinary promise to the profession. Nominees will exhibit strong leadership skills and the initiative to become one of the profession's role models.
One of this year's Future of Pharmacy award winners is John Markowsky, a pharmacist who owns his scope of practice and knows the importance that clinical services play in providing patient-centered care to ensure positive health outcomes for members of the community.
As a clinical pharmacist with Safeway Pharmacy in Camrose, John happily commuted two hours daily to work, recognizing a unique opportunity of practicing in a community that requires a higher level of pharmacist support due to a shortage of physicians. John has been instrumental in managing care for patients in Camrose that do not have access to a family doctor. For example, he has worked with many patients on their diabetes health management, optimizing patients' diabetes therapy to help prevent progression of the disease. John regularly works with family physicians and is a valued member of the Camrose healthcare team by creating comprehensive patient care plans with valuable recommendations that the team references often.
He also ensures that his patients receive the best care and is willing to take calls for therapy suggestions and share the latest pharmaceutical guidelines for disease management. One patient acknowledged that John's proactive involvement with her care and his follow up saved her from going to the emergency room. This patient enthusiastically recommends John as an exceptional pharmacist to her friends and family.
John was the first Sobeys National Pharmacy student in Alberta to administer injections under direct supervision of a pharmacist. Ever since then, he has been instrumental in protecting members of the community from COVID, Influenza as well as other vaccine preventable diseases. Very soon after becoming a licensed pharmacist, John acquired his Additional Prescribing Authorization and is confidently using this designation in his practice.
John has developed relationships with other pharmacists within and outside of the Sobeys National Pharmacy network. He continues to work and share his time with the Alberta College of Pharmacy and the faculty of pharmacy at the University of Alberta. Currently, John is part of a focus group that is helping redesign the structured practical training program for pharmacists in Alberta through the ACP.
John loves to learn and is committed to his professional growth and development. He always looks forward to sharing his knowledge with the team and pharmacy students he mentors. His passion for the profession, sharing of his knowledge and his sense of team enhances overall team morale, inspires others and elevates the overall level of care provided.
John's nominator has this to say about him, "He is a role model and leader in the community and profession. He pushes himself to grow and develop and understands how practicing at top of scope benefits everyone and results in improved patient health outcomes. He knows that pharmacists can make a positive impact in the world of healthcare and strives to do this every day."
When asked "What does excellence in pharmacy practice mean to you?" John responds with,
Excellence in pharmacy practice means that I am going to continually push the boundaries of ways that pharmacists are able to impact our patients. We are so privileged to work in a province that allows for such a broad scope of practice, so it is essential that we embrace this opportunity and continue to show our colleagues and our patients the ways that we can impact care. Just because something has been done a certain way for years and years does not mean that it is the only way or the best way it should be done. Excellence in pharmacy practice is continuing to ask the "what if?" and the "why not?" questions. I am thrilled at all the work that has been done over the last generations of pharmacists to transform pharmacy from a "fill as written" role to a collaborative, integrated model where pharmacists are an integral voice at the table of patient care. I cannot wait to see where pharmacy ends up over the course of my career and I look forward to being an influential force in shaping the future of pharmacy.