2023 Friend of Pharmacy: Constable Anthony Thompson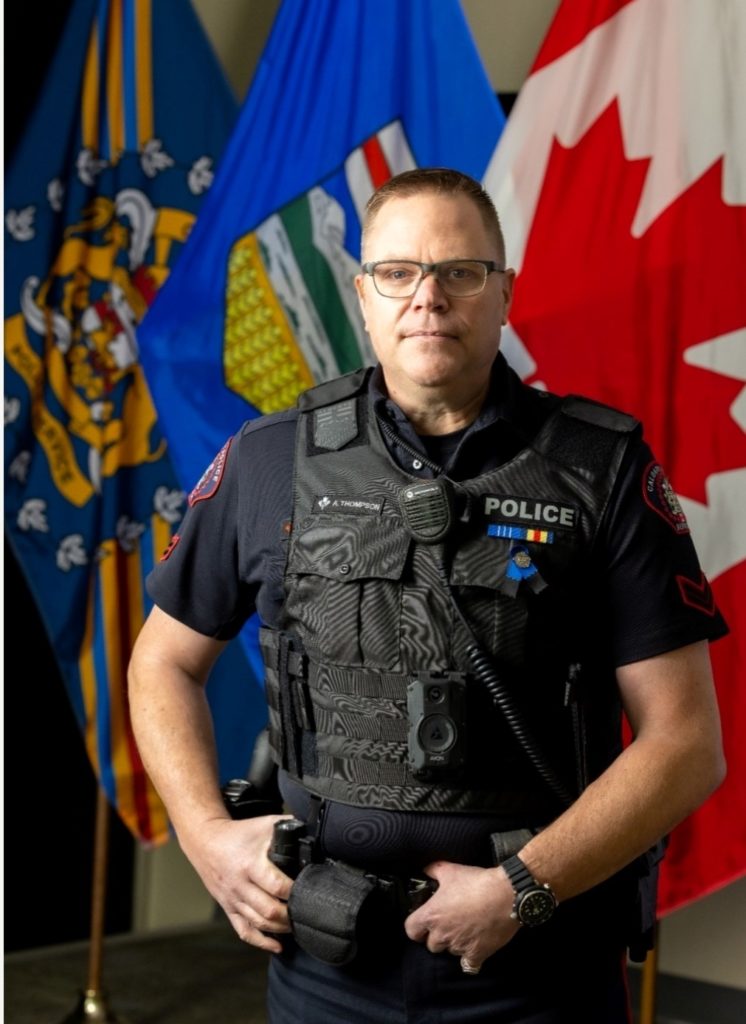 Constable Anthony Thompson
Member of the PPRWG (Provincial Pharmacy Robbery Working Group)
Calgary Police Service
The Friend of Pharmacy Award is presented to a non-pharmacist/non-pharmacy technician who has contributed significantly to the success of the profession of pharmacy. The recipient will have gone beyond the day-to-day expectations of their work to exemplify excellence in their field of work as well as in their contribution to pharmacy.
This year's recipient is Constable Anthony Thompson, Calgary Police Service. Constable Thompson is a member of the PPRWG (Provincial Pharmacy Robbery Working Group), an organization dedicated to preventing robberies of pharmacies. Back when pharmacy robberies were on the rise in 2019, Constable Thompson reached out to other jurisdictions to learn about their experiences dealing with pharmacy robberies, liaised with Alberta pharmacy leaders, and constantly advocated for change. He, alongside Det. David Green of the EPS and Inspector Mike McCauley of the RCMP highlighted robbery trends to The Alberta College of Pharmacy (ACP) Council and how policing agencies have been supporting victims. Thanks to Thompson's efforts, the province has seen a drastic decrease in pharmacy robberies, with zero occurrences since the early fall of 2022.
Constable Thompson also administers a pharmacy crime watch group via the social media platform Signal. Using this group, Constable Thompson responds to pharmacists' questions and concerns regarding pharmacy security and safety matters. He is also able to respond rapidly to pharmacists who are experiencing robbery or who have reported being cased. Additionally, Constable Thompson provides up-to-date pharmacy robbery information. Should a pharmacy get robbed, he will visit the victims and perform a security and safety audit of their pharmacy as well as offer suggestions on how to make the pharmacy a less likely target for future robberies.
Constable Thompson has been described as "a tireless advocate for the pharmacy team, patient, and community safety," as well as having "demonstrated outstanding leadership."
When asked what do you enjoy most about working with Pharmacists? Constable Thompson responded with:
"I enjoy working with the diversity of pharmacists in our community. Everyone comes from unique backgrounds; many were practicing pharmacists in their home countries. This is an incredible asset, in my opinion, as they can bring so much wisdom to the conversation based on past experiences. As a collective group of professionals, their diversity is their strength.
Another thing we need to consider as well are the victims of these robberies. Very often, when I would attend a robbery scene a day or two afterwards, they would be back they're faithfully serving their customers. The strength, courage and resilience of these people was truly inspiring to me."