2022 W.L. Boddy Pharmacy Team Award: CO-OP Chappelle Pharmacy Team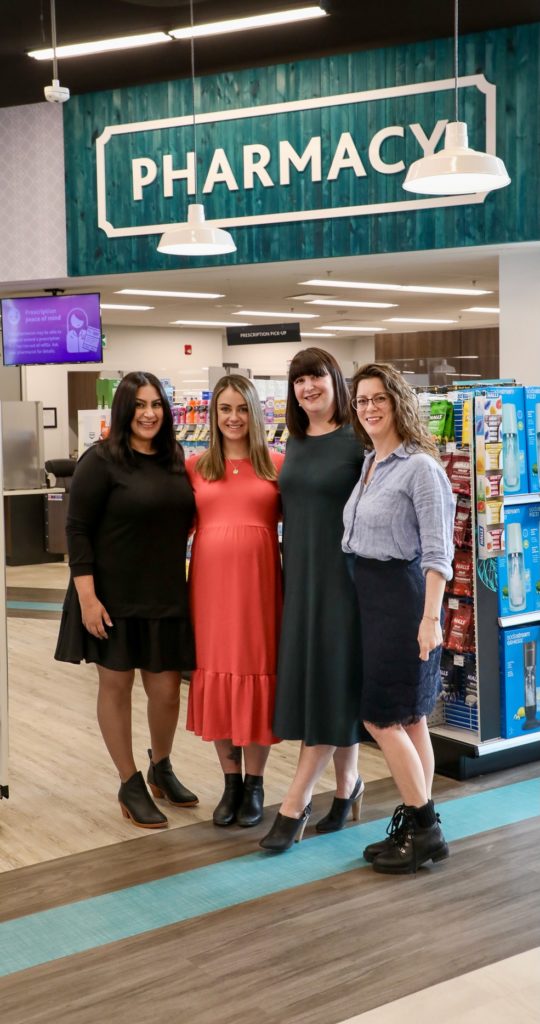 Left to Right: Noreen Walji, Jillian MacDonald, Cassandra Woit, Janet Luoma

Noreen Walji, Jillian MacDonald, Cassandra Woit, Janet Luoma
North Central CO-OP Pharmacy Chappelle, Edmonton
The W.L. Boddy Pharmacy Team Award is awarded to a healthcare team (pharmacy staff team or multidisciplinary team that includes one or more pharmacists) who, by virtue of their collaboration skills and use of the pharmacist's full scope of practice, positively impact the health of individuals in their community.
This year's recipient is the North Central CO-OP Pharmacy Chappelle in Edmonton. Among the team are Pharmacy Manager Noreen Walji, Pharmacists Jillian MacDonald and Cassandra Woit, and Pharmacy Technician Janet Luoma. All members of the team possess varying levels of expertise and experience, which has resulted in a very well-rounded practice.
Noreen Walji has been the pharmacy manager of the location for nearly three years. Her attention to detail, organizational skills, and empathy for both her staff and patients has created an environment which allows for excellence in clinical pharmacy care.
Jillian MacDonald is a staff pharmacist who brings 10 years of experience to the team. While she works part time, her cheerful outlook and extensive knowledge is a huge asset to the pharmacy team. Jillian is considered the resident pro for children's vaccinations.
Pharmacist Cassandra Woit joined the team in June of 2021 and provided insight into how to better manage blood pressure and cardiovascular risk in patients. Additionally, they were thrilled to incorporate her role as a preceptor for the University of Alberta pharmacy students and welcomed fourth year students starting in August of 2021.
Janet Luoma is a registered pharmacy technician and a compounding expert. She welcomes any opportunity to offer advice on medical administration devices. She is especially enthusiastic about blood glucose monitors.
The team at North Central CO-OP Pharmacy Chappelle embraces the full scope of pharmacy practice by providing thorough assessments for all patients. They have an ongoing commitment to community education, especially regarding COVID-19 vaccines, at-home test kits and other public health programs and vaccinations.
Yet, the team feels that what truly sets them apart is their drive to not only improve the health of their patients, but to also increase their trust in the profession by highlighting the clinical impact pharmacists can have.
Due to the supportive environment at the pharmacy, the team is able to engage in various research and clinical studies. This allows all members to improve and expand their knowledge in new areas, while also providing the most recent therapeutic recommendations to their patients.
Through participation in these studies, the team has had the opportunity to host a blood pressure screening event in the pharmacy. In addition, the team has worked with patients and their physicians to reduce cardiovascular risk through collaborative medication management to improve blood pressure control. They were also able to host a heart health screening event for seniors, which included blood pressure measurements and screening for atrial fibrillation.
Team member Cassandra Woit shares her feelings about the team, "I am proud to be a part of a team that works together to continue to strive to incorporate the full scope of pharmacy practice, explore ongoing research opportunities, precept fourth year pharmacy students while also providing expert patient care to the community."