2022 Award of Excellence:
Michelle MacDonald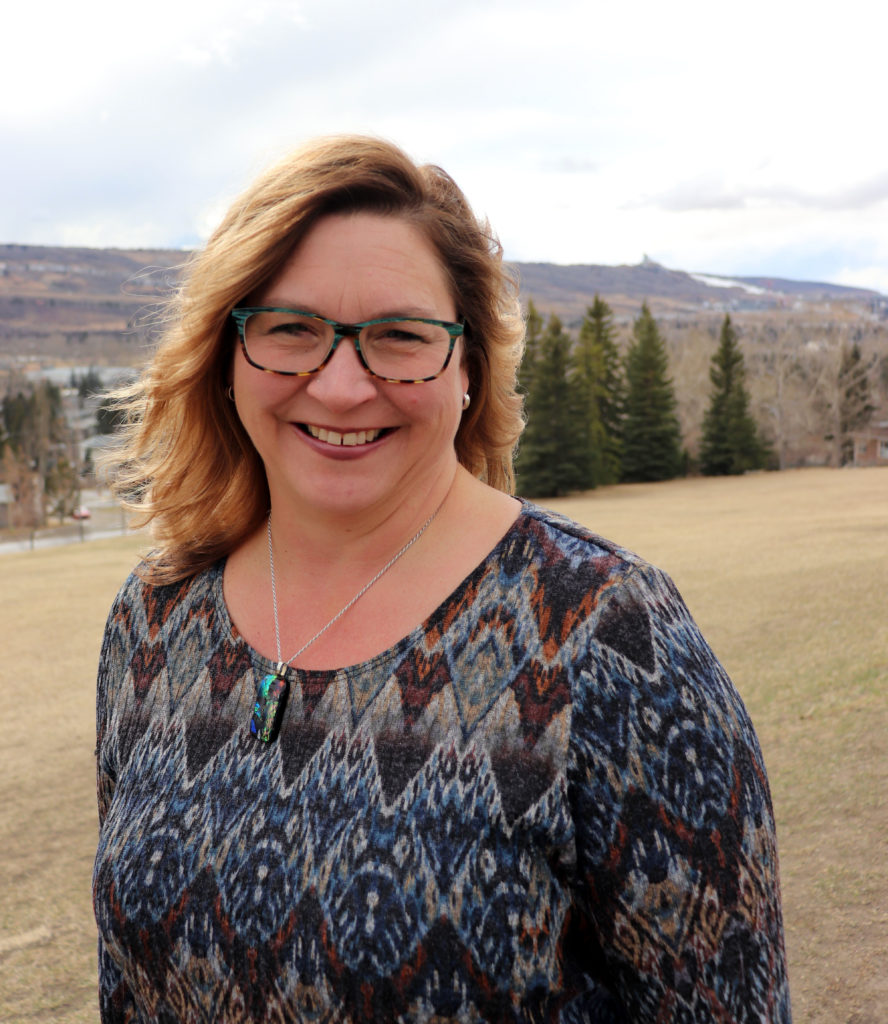 Michelle McDonald
Clinical Practice Leader-Faculty Liaison
Alberta Health Services
The Award of Excellence celebrates an Alberta pharmacist's individual outstanding achievement in the field of pharmacy. It recognizes the exceptional work, commitment and innovation of the individual who has made a notable contribution to pharmacy and the community through a single unique accomplishment or contribution.
This year's Award of Excellence goes to Michelle MacDonald. Michelle is a Clinical Practice Leader-Faculty Liaison with Alberta Health Services (AHS). Michelle strives to advance the profession of pharmacy through innovation, interpersonal practice, communication, visionary leadership and creativity. She is the first trained pharmacist facilitator to educate on HealthChange® Methodology, a licensed program that AHS has adopted to help healthcare providers and teams embed person-centred practices and behaviour change techniques into the work they do every day. This program offers a way of working and communicating with patients and families that can be built into any provider's practice and enables a consistency of approach across care teams. Michelle has trained various allied health providers and pharmacists on the AHS Pharmacy Services Team and supports implementation of this methodology as part of their practice. She has also advocated for and created interactive sessions and skills labs to educate pharmacy students at the University of Alberta on the topic, with the goal of incorporating the knowledge into future practice.
The success of this program is evident in Michelle's amazing ability to care for patients. She is continuously pursuing an interprofessional approach to ensure all healthcare professionals involved in the patients' care are well informed as to what is happening. When educating patients, she takes her time and is very caring and understanding of all the questions patients might have, always willing to answer them. Michelle uses shared decision-making and meets her patients where they are at to assure the patients' goals or needs are heard and acknowledged to help them move forward. Similarly, Michelle applies a collaborative, optimistic and servant leadership approach to supporting the pharmacists in her role as a Clinical Practice Leader. She is passionate about helping and serving others to achieve their goals.
Michelle also works as Faculty Liaison with the Faculty of Pharmacy and Pharmaceutical Sciences at the University of Alberta to create precepting opportunities for pharmacy students with Alberta Health Services and Covenant Health. Michelle works alongside preceptors and precepting sites to support placement experiences, help enhance their skills, confidence and capacity to offer high quality placement experiences for pharmacy learners. Precepting in her own practice and in leadership elective placements, Michelle is well versed in the area of precepting. She has completed research, presented at academic & professional conferences on the topic and has published work in the subject area of designing, executing, optimizing and expanding various models of precepting, such as peer assisted learning, near peer teaching and co-precepting. As one of Michelle's nominees, Maria Anwar stated, "Michelle is a big picture thinker who is always challenging herself and others to imagine beyond the boundaries of what might be possible. Michelle inspires and invites us all to join her on the adventure to bring that shared vision to life!"